New Website: SchoolRiseUSA.com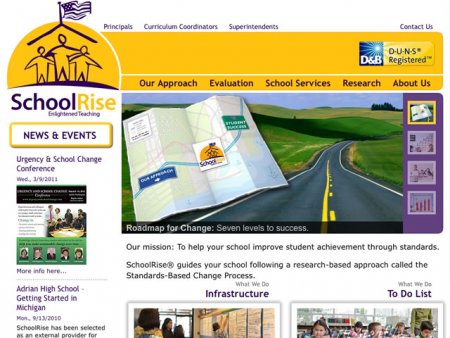 I'm pleased -- not to mention a bit relieved -- to announce the launch of the new website for the organization, SchoolRise USA. SchoolRise USA is a group of educators spread throughout the United States who work with elementary schools to improve student literacy.
The goal was to develop the public face of SchoolRise's online presence taking a very antiquated and (let's be honest) amateurish website and making something that conveyed the professionalism and diversity of the people involved. Like most non-CMS based websites I develop, this site is built around easy-to-change Dreamweaver templates with the ability to add 'Contribute' to the mix, thus allowing normal staff to make edits, should the people at SchoolRise want this.
Next up are automated websites for SchoolRise to handle internal staff and member needs. That part will incorporate Drupal with tie-ins to the static public site.