Meanwhile in France: The Ségosphère & Disco Sarko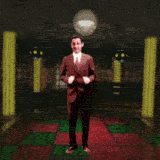 The tools of Web 2.0 are available not only to Americans but to anyone on the planet fortunate enough to have a computer and access to the Internet.
In France, a country with 3.6 million "bloggeurs", the "presidentielles" are coming up in April and all the online manifestations of a political campaign that we became familiar with here during our own election in November -- the websites, blogs and videos -- are popping up in France as well.
Ségosphere
Socialist candidate Ségolène Royal not only has a campaign blog, SegoleneRoyal2007.net, but she's got a page on Blogspot, Ségo Blogs, telling people how to set up their own blogs in favor of her.
They've even got a videoclip of her greeting bloggers that ends with the stirring words, "Aux Claviers!":
Disco Sarko
Conservative Nicolas Sarkozy has a more boring web presence at Avec-Sarkozy.fr (yuckie URL!) but some of his supporters made up for this by putting together the fun Flash site, Disco Sarko, which features the candidate dancing in various user-determined disco moves all to the beat of "Staying Alive" and "Shake Your Booty". Yes, even you can "fais groover Sarko sur le Dance Floor"!
t="398" />