Did You Ask a Good Question Today?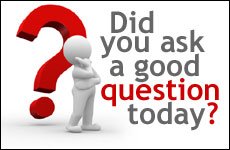 Nice quote from an article in this month's American Libraries:
Winner Carolyn Wheeler told the audience of well-wishers [at the 2009 I Love My Librarian Award Ceremony in NYC] that she has a poster in her library that reads" "Did you ask a good question today?" That, Wheeler noted, sums up the best way to learn to love your librarian.
As long as people ask those questions, there'll always be a place for the library in their lives.