'Cash for Clunkers' - Everyone's Doing It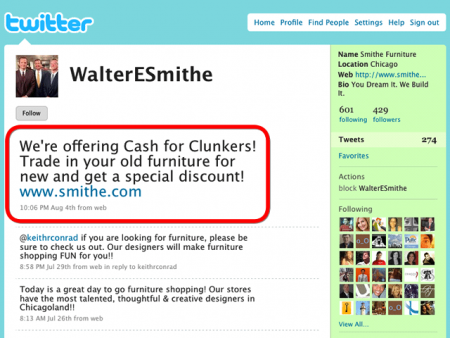 You know, as someone living in the city who doesn't drive a car, I've been feeling kind of left out lately with all this talk about 'Cash for Clunkers'. Who should run to the rescue but local furniture retailer Walter E. Smithe?
In a pretty funny commercial I just heard on WBBM radio, they announced they were offering cash discounts of several hundred dollars on new purchases if you bring in your old couch or armoire.
As store owner Walter Smithe explained in this comment to Furniture World:
"While not everyone has a clunker car, almost everyone has at least one piece of clunker furniture they'd like to replace with something nicer. This is a great opportunity for consumers to trade their old furniture for new furniture."
The clever company even has a twitter account where the latest tweet is about -- what else -- their 'Cash for Clunkers' deal!