DePaul Makes It into Andrew Sullivan's 'Daily Dish' -- in Reverse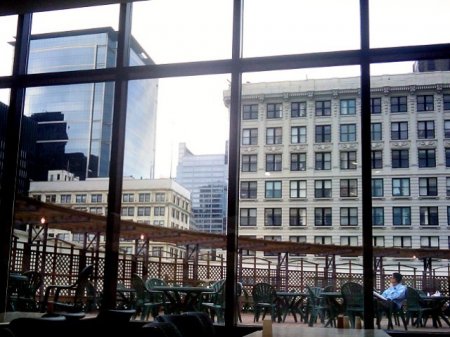 Here's something interesting. Andrew Sullivan, on his blog, The Daily Dish, has been featuring a series of user-submitted photos called, 'The View From Your Window'. And wouldn't you know, Saturday, he ran a picture from DePaul!
You can look up the image and then compare it to the one above. They're both from the Garden Terrace in the 'DePaul Center' on Jackson and State*. The only difference, strangely enough, is that Sullivan's copy seems to be reversed. How'd that happen?
[h/t Brian]
----------
* Family Tradition: The building, formerly known as Goldblatt's is where my Aunt Shirley for years used to work part-time in Notions & Lotions on 1 and where I continue to toil in Reference on 10.