Chicagoland Drupal4Lib BoF (3/20) - Report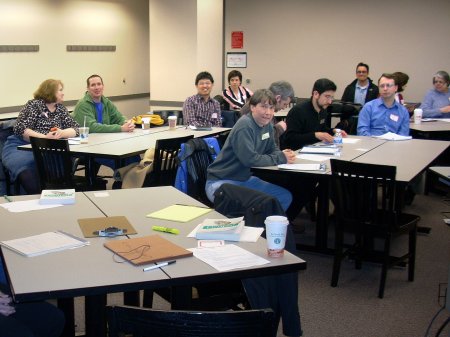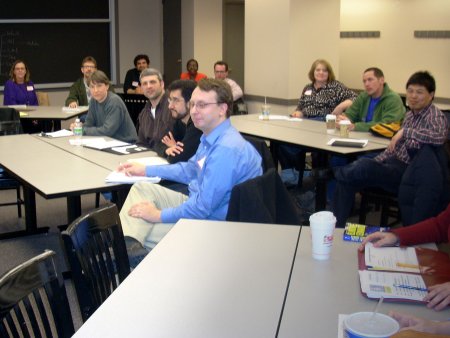 We had a wonderful turnout of close to 20 librarians from all parts of the Chicagoland area. Knowledge and skill-level ran from seasoned veterans to people being introduced to Drupal for the first time.
Project Demos & Participation
We had a number of people show us projects they're working on, including Mikael Jacobsen of Skokie Public, Brian Smith from PALS and Colin Koteles from the College of DuPage. We also had healthy contingents from Loyola, Oak Park Public, [the 3 people sitting next to Mikael?], and the ALA.
Module & Technique Discussion
Questions or issues that came up included transferring a Wiki to Drupal, customizing Themes (in this case the Zen Theme), use of Panels and a short (and conflicted) demo on my part of CiviCRM.
Resources
I was happy to see that at least two other people had read or were reading the O'Reilly Drupal Book. We agreed that it was very good. I added that it was very hands-on and that you really wanted to have a working copy of the CMS in front of you as you went through the chapters.
Other resources that people recommended included, Learn by the Drop, some of the instructional material from UMich, and this interesting site bitnami.org where you can download all the apps you need (Apache, PHP, MySQL, etc.) to get Drupal up and running locally.
ALA in July
We also discussed plans for ALA in July. We'll be meeting as part of the LITA Drupal4Lib IG meeting. People expressed an interest in hearing from a speaker who could discuss where Drupal is heading in the near future -- with the next release. Happily, we have a number of excellent Drupal Developers in the Chicagoland area who could talk on this subject.
Most Embarrassing Moment
In an attempt to show beginners how easy it is to set up Drupal using cPanel/Fantastico (just to play around and experiment with), I completely flubbed up, ending with one error after the other. So yes, I will be leaving town and changing my identity. (Here's how it should have gone...).
Thanks to All
First thanks to the wonderful people at DePaul for letting us use their great Instruction Room.
Then thanks of course to everyone who came! I was so wonderfully surprised by the number and variety of people who came. It really energized me as to ideas and activities we can do for using Drupal for library purposes in the Chicagoland area.
Feel free to leave comments and hope to see everyone again!
Next Meeting(s)
We'll be getting together as part of the LITA Drupal4Lib IG meeting either on the Saturday (7/11) or Sunday (7/12), depending on conflicts, room availability etc. We then have a scheduled meeting in September at the downtown office of the MLS on September 25.
Note: Mikael Jacobsen is also organizing meetings for NSLS.