Adobe Icon Controversy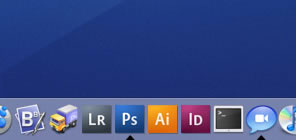 Nothing like a graphic design controversy to brighten up the day!
If you look at the Mac taskbar above and can figure out the difference between 'Lr', 'Ps', 'Ai' and 'Id', maybe you'll have no problems with the application icons in Adobe's new Creative Suite 3 currently in Beta.
For many designers however it's been thumbs-down.
Dave Shea has a wonderful analysis of the icons called 'Icont'. His reasoning reads like a basic lesson in graphic design:
They fail because there is no shape variation. Every icon is contained within an identical square. Nothing breaks the silhouette, the only shape variation occurs inside the square, in the form of the letters. But using a common typeface, stroke weight, and posture across every icon means the various letters have more in common with each other than they differ, and at a glance they all blend together. Since this is the sole shape differentiator, it's a big, big problem.
Comments by designer Jason Santa Maria also merit a read.
I guess for me the bottom line is, the icons are pretty generic and drab. I'm not great fan of the current icons but frankly, when I saw a shot of them all together, I had abolutely no idea what they were for. They looked like a bunch of Color Samples for choosing a bucket of paint.
You'd think Adobe could do better.