Old Friend Mark Stewart Up For Tony Award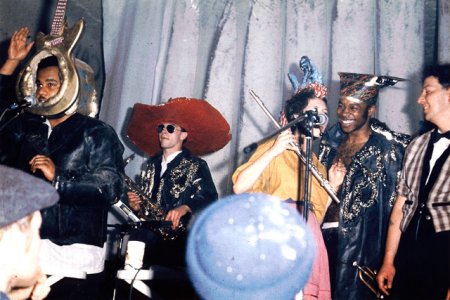 Finally someone I know is famous!
In the 80's in crazy Kreuzberg, West Berlin, a bunch of us belonged to this good-time group called the 'Wonderful Guise'. Mark Stewart Stew was one of the lead musicians.
Well, Mark Stewart Stew is now up for a Tony award as "Best Musical" for his show 'Passing Strange'. According to a write-up in the Village Voice, this Bildungsroman in musical form "takes him to Amsterdam and then to Berlin, where he's indoctrinated into hardcore bohemian life."
Hardcore bohemian it was! Above is a shot from a concert we gave at the venerable SO36. Mark's on the left, followed by Enrico, Freie Freya, Art and me. Not pictured were Marek the drummer and Anthony Millionaire (of Maakies fame) who did the costumes and sets.
UPDATE: Results are in. 'In the Heights' won out over 'Passing Strangely' 'Passing Strange' for Best Musical which kind of makes sense considering the subject and location of each show. 'Passing Strangely' 'Passing Strange' did get the 'Best Book' Award which is still pretty good.
UPDATE (5/27/2013):The content of this page is available for modification and reuse under the terms of the Creative Commons Attribution-Sharealike 3.0 Unported License and the GNU Free Documentation License.