Praise for ChicagoLibrarian.com & LibSite.org from ProQuest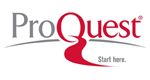 Both ChicagoLibrarian.com and LibSite.org get a wonderful write-up in a brochure from ProQuest:
"Specific to library-related website design, Chicagolibrarian.com and librarian Leo Robert Klein maintain an excellent "recommendation service" for viewing best practices, innovations, and experiments being tried by your colleagues worldwide. Please take a minute to visit libSite at http://libsite.org and you'll become a frequent visitor."
It's on their "Customer Tools" page under "How-to guide on Marketing Your Library's Online Resources".