Podcast of Alan Cooper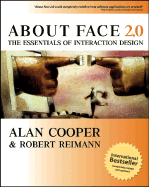 Alan Cooper is the author of two absolute classic books: "The Inmates Are Running the Asylum" and "About Face 2.0: The Essentials of Interaction Design".
In this podcast by Gerry Gaffney, Cooper talks about personas, interaction design and other aspects of User Centered Design (UCD).
Interesting quotes include:
Personas are not something we make, they're something we discover.
Appropriate focus:
"Even though you have a broad constituency of users, you should have a narrow selection of goals. By definition, a product serves a narrow spectrum of goals, even if it serves a broad spectrum of demographic."
Difference between 'marketing segmentation' and interaction design:
What Interaction Design does is, we go directly to that motivation -- not why someone would to buy but why someone would be satisfied using. That's a deeper thing.
Listen to the whole thing here... (h/t infoDesign!)