Browser War Redux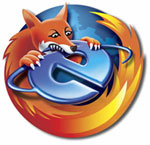 I spose I'm showing my age by using 'Redux' instead of '2.0' but, boys and girls, I remember the first round of browser wars as if it were yesterday!
Essentially Internet Explorer booted Netscape off the face of the planet not because of any particular advantage it had over the competition but simply because it was part of the Windows OS and lock-in trumped all.
Well, since then, Microsoft has sat on the thing (so much for 'Freedom to Innovate') while an offshoot of Netscape, Mozilla, refined its own product, the open-source FireFox. Now finally MS has woken up and released IE7.
So it's the IE-Firefox Browser War all over again. But, but, argues Read/WriteWeb, what this really is is a proxy war between Microsoft and (who else?) Google with nothing less than the "multi-billion dollar advertising industry" at stake. How so, you ask? Well, read the rest of the post...