OneWebDay (Video Taping at UIC)
[From my UIC Announcement:]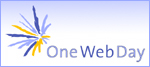 OneWebDay is a global online event celebrating the importance of the Web (website: http://www.onewebday.org).
As explained by the event organizers:
"The essence of OneWebDay is to create a global constituency that thinks of itself as responsible for the future of the Internet, so that when negative things happen (censorship, restricted access, heavy-handed law enforcement control) people will act." (http://www.onewebday.org/?p=228)
This year they're encouraging people to make "short videos". As a personal project, I'd like to invite faculty, staff & students to come to the Quad (East Campus) on Wed.-Thurs. (9/19-9/20, 11:30a-2:30pm). There I'll be videotaping responses to any of the following suggested topics:
how the web has changed your life
how you'd like the web to change the world in the future
highlights of what you've seen online the day you make the video
your favorite online event ever
something you've done online with other people in other countries
I'll take highlights from the taping and put together a 10-minute clip, then upload it on YouTube on Sat. 2/22 (the "official" day) with the tags "UIC" and "onewebday2007".
OneWebDay is a great idea and it's sponsored by academics and experts like Susan Crawford (currently at UMich) who believe in an Internet as wide open and accessible as possible. Help contribute to the day by relating your experiences!
Contact: Leo Klein, Tech. Coordinator, Partnership READ, COE, UIC
Note: I'll be on the south side of the Quad. Look for the camera mounted on a green tripod. Alternative location (in case of inclement weather, etc.): just outside the west-side exit of Student Center East.
You can read more about the event at: http://www.onewebday.org