SaveNetRadio.org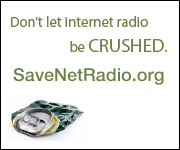 SaveNetRadio.org is where you ought to go if you've ever listened to Internet Radio and thought it was a welcomed contrast to all the crap (pardon my French) on Broadcast radio.
Unfortunately this nascent medium is about to be wiped off the face of the earth -- at least in the U.S. -- thanks to an extremely punitive and destructive increase in royalty fees approved by the Copyright Royalty Board.
Richard MacManus from Read/Write Web who has a post on the subject, quotes from Pandora Radio:
The new royalty rates are irrationally high, more than four times what satellite radio pays, and broadcast radio doesn't pay these at all. Left unchanged, these new royalties will kill every Internet radio site, including Pandora.
In other words, those who can least afford it are being forced to pay the most. This is nothing but an attempt to stamp out innovation and choice in the one medium, namely the Internet, that we have left.