Depaul University 'Library All-Star' Award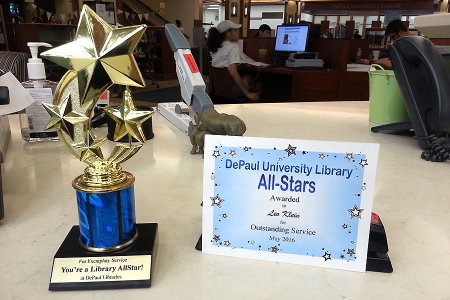 Wow! Awarded the "Library All-Star" Award from the library at Depaul University. They brought the thing over this Saturday. Thanks, everyone!
From the original nomination by head of our department, Terry:
"I would like to nominate Leo Klein as a Library All-Star. He fielded a question from an American Studies professor on a Saturday and provided a referral to me as the liaison to that department. In the meantime, his intellectual curiosity and service orientation led him to research the question and by the time I came in on Monday, he had successfully located several data sources and communicated with the professor, satisfying all of his needs for a presentation he would be delivering at the end of the month.

Not only was the professor happy with the speedy turnaround time, but it saved me a lot of time and effort in the process! I believe that for both of these reasons, Leo deserves this recognition in addition to my thanks (already communicated)."
From the Awards page:
The Library AllStars award seeks to acknowledge and celebrate particular instances of exemplary service, where a staff member has gone the extra mile, made a big difference, saved the day, or made an especially significant and positive impact in some specific way -- whether that's something they did internally for the library organization, or directly with one or more colleagues, or through the provision of service to anyone in our library user community.
Again, thank you everyone! You don't know how rewarding this activity is. It's not a job -- it's an opportunity to serve!