IM Widgets More Effective Than Crummy Old Links for Library Chat Reference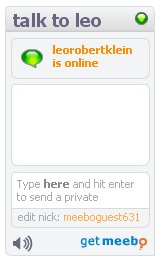 First, I like this study of Chat Reference at S.I.U.-C. because it stresses the need to take its results in context. Maybe you're getting more questions about holdings because you've now got your IM widget on all the database pages listing articles your users are looking for, etc. In any case, the fact that they now have their IM Widget on those pages instead of a simple link seems to have significantly increased virtual traffic:
"The number of SVR ['Synchronous virtual reference' -- i.e. IM] questions increased by another 1,000 in the year when the library embedded a widget into the SFX link resolver menu and EBSCOhost databases. Even though the Ask A Librarian link had been included in the SFX menu and the EBSCOhost banner for many years, an increase was recorded only after the widget was embedded. The increase in SVR questions supports the notion that placement of a widget can influence use."
Julie Arendt, Stephanie J. Graves, (2011) "Virtual question changes: reference in evolving environments", Reference Services Review, Vol. 39 Iss: 2, pp.187 - 205.