Kindle Schmindle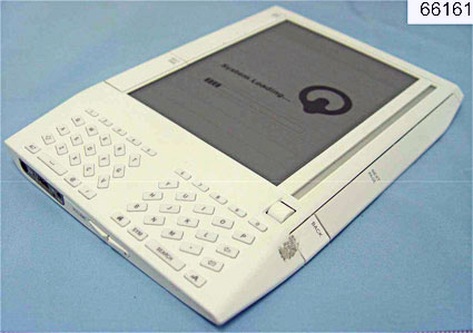 So every time some new 'ebook' device is announced, we're 'sposed to drop everything and proclaim it a paradigm shift? At least that's the routine.
This week's candidate is the Amazon Kindle -- at least as presented in an article in Newsweek extolling its virtues titled "The Future of Reading" by Steven Levy.
The article is nothing but an uncritical paean to Amazon. The thinking behind it literally is: because Amazon has released the device, ipso facto we're entering "an exciting -- and jarring -- post-Gutenberg era". "The e-book reader," he declares, "is coming of age".
On the other hand, there's no serious analysis of why similar devices have failed in the past or why alternatives such as smartphones and laptops continue to prove more successful.
Instead what we get is a mismash of every technical buzzword and concept in the book. Words like "milestone" and "revolution" are mentioned. There's the obligatory iPod analogy. The device is possessed of a "disruptive" nature (well, what isn't these days?) and there's even talk of "Book 2.0".
From there, the author gets totally lost in a discussion of paper vs. electronic and the joys of hypertext (the "always-on book") that could have been written by Vannevar Bush.
All you have to know about the author is that he plunked down $1.99 for an electronic copy of Dickens' "Bleak House" -- a work long out of copyright and available for free at close to a million other sites -- and thinks he got a bargain ("You can also get classics for a song.")
This is gonzo tech journalism at its worst -- repeated for a day only to be replaced by the next new (under-preforming) device that some media giant wants to shove down our throats.
Update: Here's another example of uncritical stenography -- this time from CNET
UPDATE II (10/15/2009): A number of commentators have pointed to my use of 'Kindle Schmindle'. I guess the official term for this is 'Shm-reduplication' (yes, who knew) as explained in this Wikipedia article.