Site of the Month: Queens Borough Public Library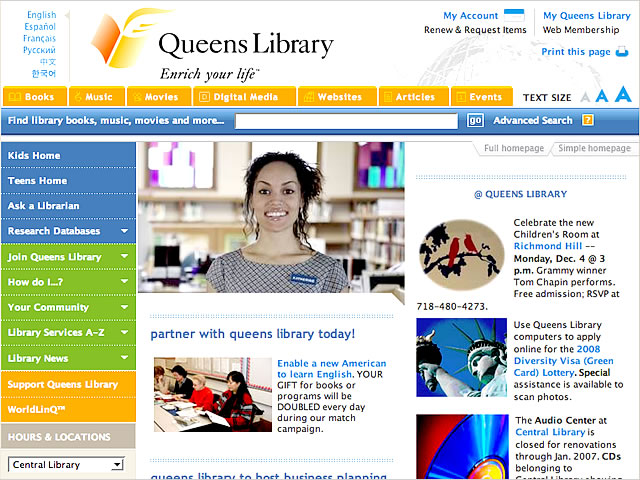 The Queens Borough Library Website is so good that it made me want to do this review. It practically cried out for it. The developers have done a fantastic job. They've taken features we routinely find on other sites -- features like creating accounts, specifying preferences and grouping information -- and applied them to a library context.
In so doing, they've upped the standard of what a library website can do -- and what the public can expect from one. They've also provided a good model for other libraries to follow.
Overall Design and Look-And-Feel
This is a bright, colorful, well-designed site. The overall presentation is busy without being cluttered. Everything has its place. Even the foreign language options -- all six of them -- are comfortably parked near the top of the page.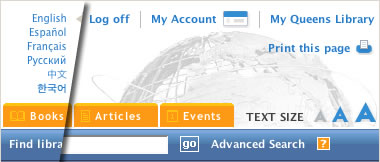 Also near the top are two items, 'My Account" and "My Queens Library" that work very much like people have come to expect on other sites. They're built into the system and not part of some vendor-provided separate utility. More on these later.
The navigation is clean, easy to use and robust. Materials are listed on the tabs on top while all other information including user-groups and services is on the left. This left navigation expands and contracts revealing subcategories in an easy-to-use, consistent manner. Running along the bottom is more "institutional" information such as "About Us", "Contact Us", etc.
Dynamic, Integrated Information and Services
Probably the most noticeable aspect of the site once we get beyond the graphics and layout, is just how dynamic and integrated the information is. We don't have separate applications running various aspects of the site -- one system for web pages and another for events. Rather they're integrated into a common interface and can be arranged in any number of powerful ways.
How branch library information is presented is just one example.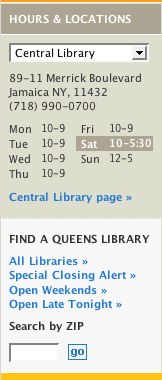 Most large metropolitan areas have branch libraries. So how the information about them is presented and accessed is an important consideration. At the Queens Borough Library site, you select a branch from a dropdown menu that's part of the left navigation. Once you've done this, the information below the menu immediately changes to that particular branch's hours and location -- and the system remembers your selection as you move from page to page! There's also a link for more extensive information about the branch below the hours and location.
But what if you don't know which branch to pick? In that case, you can search for one using a map or zip code. A particularly nice touch is the "Open Late Tonight" link which lists all branches open late according to what day it is. A feature like this would be unthinkable in the days of hand-coded library websites.
We've come a long way, baby!
Even more impressive is how events are handled. The function is completely integrated into the site. You can look events up by date, branch or user group. Each branch has its own calendar which is a subset of the larger institution-wide calendar. Once you've found an event to your liking, you can add it to your "My Events" list and sign up for weekly email reminders listing the events you've selected.
Presto!
Personalization
The "My Events" feature is just one example of personalization. The first thing you notice about it is how easy it is to set up. It's just like setting up an account at just about any other website on the face of the planet. You don't need to come from Queens or even have a Queens Borough Library card!
You just enter your username, password and email and that's it. From there, you can begin making your own list of events, designate your "home" branch library and do a number of other things that on other library sites -- if at all possible -- might require pulling out ye olde library card and typing in a long string of numbers.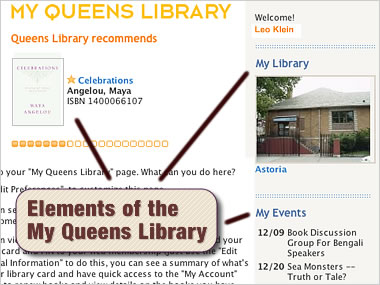 Of course, you'll eventually need to enter those numbers if you want to take advantage of borrower services, including remote use of subscription databases, but the first step is entirely painless. What's more, once you've set up the preliminary account, called a "Web Membership', you can link it to your library card number.
Also well integrated into the site are suggested reading lists on about a dozen different topics (e.g. Biography, Fiction). Each topic has its own newsletter which people can subscribe to online. The library also offers various other forms of recommended materials (music, movies, etc.) all of which link directly to holding information in the OPAC. Bookmarks for this kind of material would be a logical future extension.
Integration with the OPAC itself is a bit quirky. At least on my copy of Firefox 1.5 running on Mac OS X, text and navigation near the top of each record was smooshed together.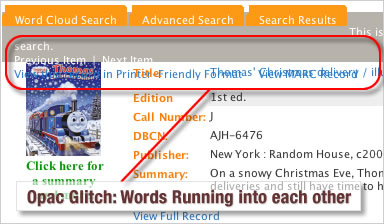 Nevertheless, the initial search box that figures so prominently on each and every page managed to pass my "Treasure Island" test: type "Treasure Island" in the search box and hope that a book by that name actually turns up on the first page of results (not always a given, believe me).
Design-wise, the OPAC carries over the color scheme and navigation of the site as a whole. That's important. No reason to step into an entirely different interface just because the function, in this case finding books and other materials, has changed.
Bugs? Complaints?
And yes, there are bugs. On occasion, I'd clicked on a link and this caused a database exception of one kind or another (read: ugly error page). The whole system looks like it was homebuilt and that's a good thing because all the pieces work in an amazing way, but on occasion there are loose strings that need to be fixed.
Besides that, there's not much to gripe about -- other than the aforementioned minor formatting glitches due to OPAC integration.
Conclusion
In the early days, you'd look at a library website and wonder exactly want kind of ramshackle organization put it together. The sites in no way reflected the role, oftentimes enormous, that the institution actually played in the community.
This is no longer the case. Increasingly we're getting websites that compare favorably with the competition at every level be it graphic design or functionality. The Queens Borough Library web site is an excellent example of this. We don't have to be first on the block with every new feature but it makes sense eventually to incorporate good ideas when we can.