More Ugly Money from the U.S. Treasury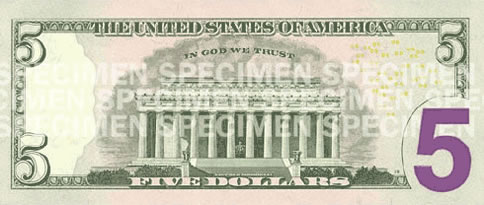 I really think the US Mint (coins) and the Bureau of Engraving and Printing (dollar bills) have lost the art of designing money. The fine detail and overall sense of composition that used to distinguish our currency is now no more.
Case in point is the new $5 dollar bill with that big ugly purple '5'. It looks like they just got out a huge rubber stamp and banged away.
The Bureau of Engraving and Printing praises this as "Safer, Smarter, More Secure". Apparently 'visually impressive' so it conveys -- who knows? -- the idea of actually being worth something is no longer a requirement.
Meanwhile someone has created a website called "Get Helvetica Off Our Money."